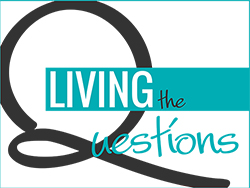 Diana Trautwein asks this question in her Living the Questions series on her blog,  Just Wondering this week.  This week I am linking my post to hers.  There has been a great discussion there in her online community.  You might want to spend some time there.
Yes, Yes, there is room for my tears.
Tears are a gift.
I have shed many tears beside this lake
many of them under this Weeping Willow Tree.
and in this garden
beside this waterfall.
Sacred spaces
where I am quiet enough to
hear his voice.
While some have been tears
of deep grief,
sometimes tears tell me
it's time to
stop
pay attention
see what God has for me.
Although not always readily apparent,
the time spent paying attention
until it becomes clear
is time
well-spent.
make sure you read Diana's thoughts on her blog as she asks the question, "Is there Room for our Tears?" referenced at the beginning of this  post.