Dearest Readers:  This post was published earlier but MailChimp decided to make some changes and you never received notice of its publication. I'm in business again because of my son, Todd, who is for the time being anyway, my favorite son. Don't tell the others. If you know Todd and want to see what he is up to, click HERE: You will see how thankful I am to have this talented, experienced son available to help when things go a little wonky tech-wise.
Now, back to where I started in January (and the notice never went out to you.
It's been a long time since last fall when I wrote this reply to my friend over at Lake Opeka, the Tiny Little Tree. (for the last exchange click HERE)  As you'll see below a lot has happened. My hope is you'll be encouraged by the reflections we share back and forth. She's still going strong, still a picture of perseverance and the ability to enjoy where she has landed. (You can read the beginning of the series when I first noticed here starting HERE:)
* * * * *
Dear tiny little Growing-our-of-the-rock Tree,
written fall 2022
A lot has happened since I originally wrote this: our 52nd wedding anniversary, Christmas, New Year, my 75th birthday, and next up is a dinner at Season's 52 on Valentine's Day, celebrating our engagement fifty-three years ago. He waited until after midnight on Feb. 13 to offer to take back his class ring in exchange for a diamond.  I know, I know. Not an especially creative engagement scenario in light of today's extravaganzas.  Actually, I was kind of expecting it and wasn't disappointed.
I haven't been over at the lake very much this winter- I used to love being there, the more snow, the better. The colder it was the more I liked it. I think getting older has changed that a bit.  I'll tell you more about how it feels to be seventy-five another time. Meanwhile, flashback with me to November.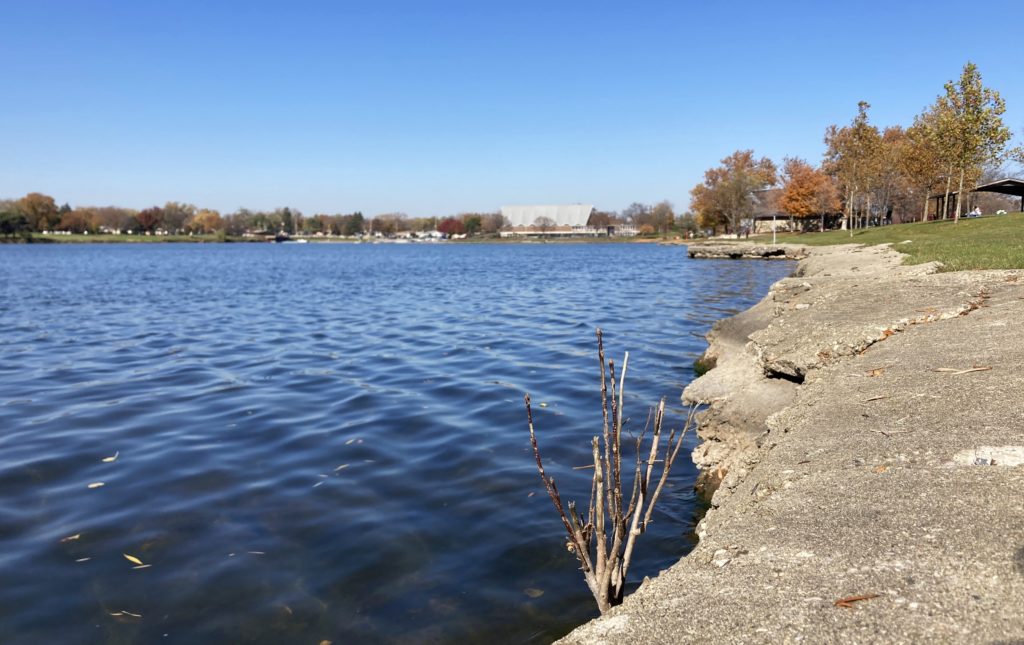 "Your last leaf is gone. You look half dead," I say when I arrive today.  I must remind myself what I see is not death; it is rest.
You probably notice I am journaling a bit more over here. I have found my words again these last few months and it feels good.
I know you owe me a letter, but there's no rule I must wait till I hear from you, so here goes:
Normally, I am in sync with you and the seasons but here at the end of fall, with winter looming, thinking of spring.  I find myself considering possibilities thought impossible a few months ago. The funny thing is it feels good and scary all at the same time. This will take getting used to.
I keep wondering if it's safe to feel hopeful. I am slowly learning to receive the joy of each day. At the same time, I know I can also deal with whatever challenges come with another day. And if it's hard, I get to have help because I know I do not have to do life alone.
More often than I'd like to admit, I still wander through my days with no purpose. I scroll obsessively on my phone. I'm on the prowl for something interesting to eat. This would not be a problem if I were searching for vegetables and fruit, however, that is not the case. There's nothing wrong with chocolate, and crunchy-salty food, but when it becomes a way to fill a void, that's a different story.
Even my online groups and creating memory books for my family can become a distraction. In my hyper-focus, I lose track of time and push away whatever is bothering me. While both are good things, when used as a distraction, they don't help any more than my phone or food.
It's time to ask myself "What are you avoiding?"
I burst into tears as thoughts of my brother Gordon break through the avoiding. It's eight days until November 8th, the anniversary of his sudden death seventeen years ago. He was forty-nine years of age.
It's the now-familiar "October-almost-November" Feeling".
I've been busy and while I plan to head out to Lake Michigan to visit "our tree" in a couple of days, I haven't thought about it as much as I usually do this time of the year. The body remembers what the mind and heart have temporarily forgotten.
Though it seems like yesterday and forever ago, I remember the grief as it overwhelmed me. In it all, God's presence was as real as the air I breathed. I sensed it in the love of friends who walked this unexpected valley of death with me. Eight months later, with the encouragement of friends, I entered grief counseling. I wish I had started sooner.
The unprocessed grief from the losses of two younger siblings when I was eleven and twelve years of age attached itself to this new loss. A year later, my husband was dismissed from his pastoral position at a church we dearly loved. My mother was dying. Three years after Gordon's death I began to have more questions than answers.
As more losses added to these losses, I began to doubt God's goodness, which eventually progressed to a period of wondering if God existed at all.
I thank God for the counselor who held space for my questions all the while showing me what Jesus is like. In so doing he reminded me of what I knew God to be like because Jesus shows the way to the Father. (I John 14: 6,7 – Jesus told his disciples "I am the way and the truth and the life. No one comes to the Father except through me. If you really know me, you will know my Father as well.)
I am learning life is losing and living. And the living is so good it can make the losses bearable. The touch of a friend is like oxygen. The smile of a grandchild makes my heart sing. The hug of a son, a care package, a note, or a phone call from a daughter-in-law lets me know I am not alone.
During COVID online writing groups bring me new friends who encourage me in my writing.
I am learning to be happy again as I learn to stay in the present instead of ruining it by dreading future losses. If I don't, I lose twice when the inevitable losses come. I'm older now. I'll be seventy-five in January, and I've heard this last stage of life is a series of losses. My counselor says our life-long work is grieving our losses well.
I used to think grief was only about losing someone I love. My history of loss has something to do with that I suppose. Lost dreams, lost plans, lost relationships, and lost expectations fill our lives.
We, adults, experienced multiple losses during the COVID Pandemic. Our children and grandchildren experienced loss. I have come to understand when I live my life, glossing over the losses, I do so to the detriment of my mental, emotional, spiritual, and physical health. Losses need to be acknowledged. I find when I speak them out loud to Jesus and trusted friends who can simply listen, it doesn't make the pain less, but the beautiful difference is I am not alone.
You may be wondering about gratitude. Isn't that supposed to help? For several years I threatened to write a blog post "Why I hate Gratitude Lists." I never wrote it but it's how I felt. We, humans, get the order of things mixed up.
Gratitude comes after the loss has been acknowledged and grieved. In my church world, while growing up, we were encouraged to be grateful, but it seemed to be offered more as a cure for the sadness without first making room for it.  We do it to children too. What we big adults view as "little" losses are big for the little people in our lives. Sadly, we are more likely to minimize their losses than give them the space they deserve.
We are meant to be in community with others. It's true of trees too. Did you know the giant redwood trees have shallow roots, but their roots mingle with each other and together they are strong?  I guess that's a silly question. I suppose you could tell me a thing or two about trees.
I do wonder how it is with you, out there on the edge of the lake all by yourself. I noticed a tiny tree growing next to you there on the rock, but not sure she is going to make it. I hope she does. You might like the company.
I continue my journaling here with a letter to my brother.
"Dear Gordon, I miss you so much.
*  Your stupid jokes and your crazy escapades.
"Dear Gordon, I miss you so.
*  Your ridiculous jokes and your crazy escapades. 
*  Your excitement over learning new things, like the Christmas you told us about "this crazy new thing, called a CD." And how you excitedly showed me your new video camera. I hardly knew what you were talking about. It didn't matter. Being with you was always enough.
* Your love of family and how crazy-proud you were of your kids and your wife's business. You talked about them to anyone who would listen. You had good reason.
*  The way you excitedly called us and went on and on about this new scrapbooking business your wife was involved in and how I needed to do it too. Finally, Galen said "Gordon, stop talking about how great it is. Just tell us how your sister can sign up." 
That phone call was the start of a twenty-five-year career, allowing me to work from home. That conversation made it possible for us to give our three sons and their families many happy Memories of Christmas Mountain in Wisconsin Dells.
*  The unique way you shared your faith, never preaching at your friends instead, dropping a question into the conversation. Then you'd be on your way to the next thing, leaving them to ponder the question for themselves. You wanted people to know your Jesus.
*  The way you hired guys on parole, willing to give them another chance. Sometimes they betrayed you. You'd come into work and hear "Hey Gordy, your (insert one of his tools) is listed in Thrifty Nickel this week." You wondered where that thing went. Sometimes you went and bought it back.
*  How you gave one of the guys a bus ticket to go further west and start over again and how devasted you were when he took his own life. The sadness for me was that I was surprised – not that you hired them but how devastated you were at the outcome. I'm sad I didn't know your heart better. Sad for the lack of resources and distance that kept us apart for much of our adult life. The last few years we were able to be together more and then suddenly you were gone.

I wonder if you remembered your Grandpa Sam Longenecker was a prison chaplain in the state penitentiary. For a number of years, he and Grandma Annie had a place for the guys to come and stay while they got back on their feet.  I think you'd like that story. 
Today another flock of geese has landed at the lake on their way to wherever geese go in the fall. I guess you landed here on earth and somehow it must have been time for you to go.  But it was too soon. I'll never understand. Jesus has been with me through it all. He's been with all of us. Winter is not all there is. 
I know you are waiting in heaven for me. Please meet me when I get there.  Bring Ronnie and Brenda, Mom and Dad with you then take me to see Jesus. I hear people say the first person they want to see is Jesus. I think he'll understand.
 Love, your Big Sis, Carol
* * * * *
Dearest Readers: As you experience the good and scary, reflect on the things that seem like yesterday and forever ago, may you know the beautiful difference of not being alone.
And one more thing, if you enjoy the conversation, share this post with someone else who might enjoy it.