When we left our son's home in Pennsylvania on July 18 to travel home to Illinois, I entered the start and destination info into my iphone map
And there it was – the overview – a place to start, but hardly helpful for knowing how to get there.
There were, however, steps which told me each turn between my son's home and our home in IL – 27 of them – step by precise step.
And I had to pay attention!
When I didn't, I missed the turn or didn't notice until it was too late to navigate it safely, necessitating a turn around, or worst yet, getting completely lost!
My patient and sometimes not-so-patent husband would tell you having a having a navigator who doesn't pay attention isn't mucb better than no navigator at all.
Thankfully I can start from "current" location"
and find my way once again.
We found some turns to be very simple.

Some complicated and some close together.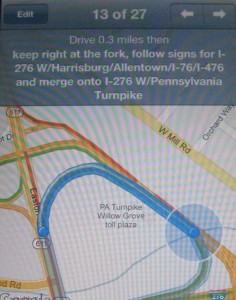 Sometimes it was a long time till the next turn and we could relax for a bit and enjoy the journey.
And through it all, the one truth remained…the next turn was all we needed to know until we drove into our driveway.
Since then I have thought often of that trip and the iphone map…..
God, I choose to believe that as I pay attention You will guide me by showing me the next turn. I don't have to know the exact destination with You, nor do I have to know more than the next step. And when I get lost because I stop paying attention, You know my current location better than anyone else.
Sometimes I thought I knew the destination, but you had another one in mind, which means you are better than any Map app.
When I despair, saying  "I just don't know what to do,"  help me remember to keep doing what I am doing until You give clear direction.
And for now, the next step is to get busy and pack for Showcase (Creative Memories Convention), so I'll be taking some time off from posting.
Psalm 32:8
I will instruct you and teach you in the way you should go;
I will counsel you with my loving eye on you.