I go for walk, looking for beauty on a dreary cloudy day in a strange neighborhood while on a girlfriends weekend at a hotel.
By the time I wind around the hotel, to the back corner of the parking lot, I have all but given up.
"Lord," I say," there doesn't seem to be any beauty in this dreary suburban landscape of buildings and parking lots devoid of grass or trees."
"You just haven't looked long enough," He Gently responds.
And then I spot it – a park bench leading to a path along the hotel property and parking lot.
I'm thinking this looks hopeful – hopeful that is, until I am standing at the beginning of the dreary-looking dirt path. In some places it's downright ugly.
A few steps later, I spy it "beauty, at its best " bright blue berries gracing the dark evergreen of the Juniper bushes lining the pathway on one side . . .
. . . and on the other, tall dried stately grasses left over from last summer, filtering the view and dulling the roar of cars and trucks whizzing by on the busy highway.
The path continues, becoming more picturesque as it continues to wind along the edge of the property, the still-busy sounds of the highway to the east, muffled even more.
Rounding the corner I am treated to the unexpected sighting of a lake with a willow tree standing guard in her winter nakedness and a sign that says "No Fishing, No Swimming, No Wading."
Thankfully, it doesn't say "No Looking."
My twenty-minute walk stretches into forty. Arriving back at the hotel entrance I notice the dried grasses and the bright red berries on the tree I'd ignored on my way out the door forty minutes earlier.
Seeing with new eyes, I murmur on the way in, "Thank you, Lord, for this beauty, reminding me of your ever-present presence.
* * *
The beauty I saw that day, lingered with me throughout the next week as the clouds remained hidden and the days continued gray and dreary as they had for days before and one day, I added "Find Beauty Today" on my to-do list.
Here is what I found later that day.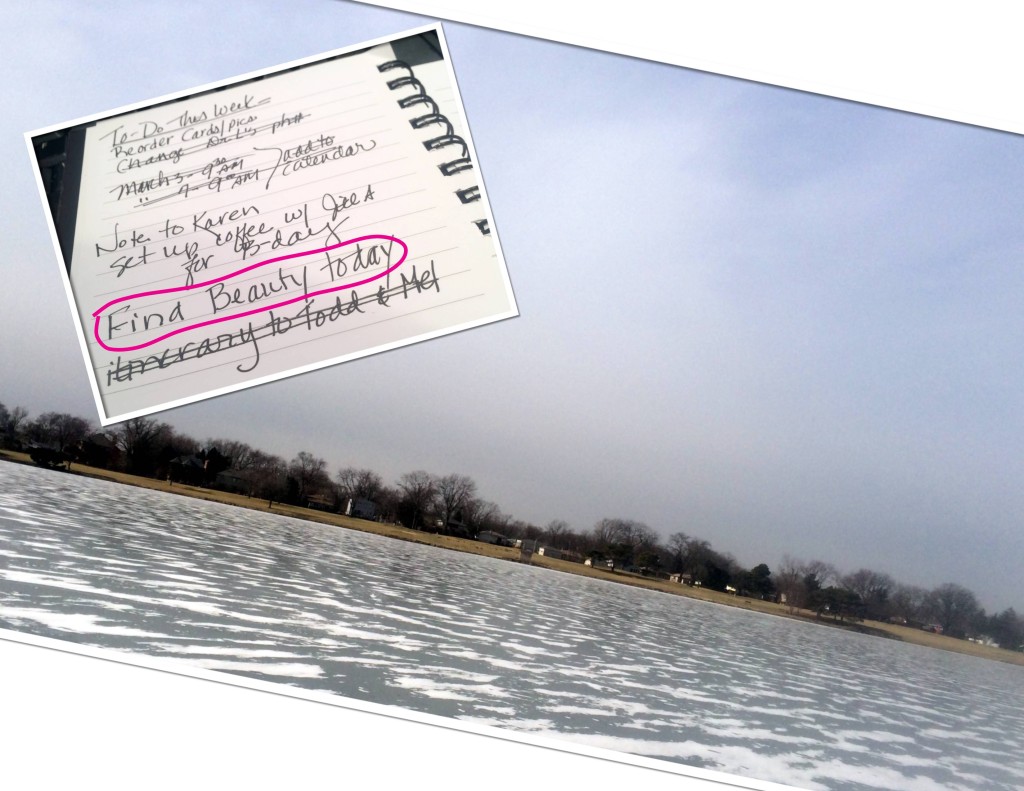 Sometimes we have to remind ourselves to look for beauty before we convince ourselves there is none to be found.
Where have you found beauty lately? I'd love to hear from you.