Recently I visited Fort Sheridan Beach on the north shore of Lake Michigan and this is what I saw as I got out of the car.
By taking a long and thoughtful look at what God has created, people have always been able to see what their eyes as such can't see: eternal power, for instance, and the mystery of his divine being. Romans 1:20

This. This is why I come here
Here I am reminded
of your existence,
of your character,
And why I can trust you
when the pieces don't fit.
To the north, I see your handiwork.
It continues to the south.

I am reminded.
I can hold in tension
two truths about life:
Sometimes it's hard,
desperately
difficult.
Sometimes it's good,
heart-stoppingly
beautiful.
He is present n both.
For today
It is enough for me.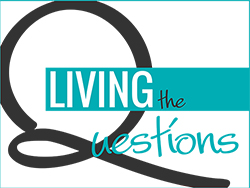 joining with with Diana Trautwein (Just Wondering), in her continuing series on "Living the Questions." Topic: Holding it together when the pieces don't fit. Click HERE and join the conversation at Diana's blog, including the comments for more on this topic
>